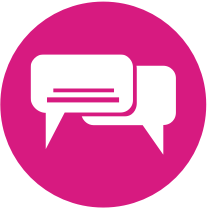 6. Wrap-up: Computer Science and Social Media
Transcript

Congratulations on coding your first program in CS First Social Media!

This is your final video of the day.

It will wrap up today's club activities, as well as give you a preview of the next club session.

You began an amazing journey today in computer science while learning about Social Media.

Social Media and computer science have the power to change the world for the better.

An example of this is the nonprofit organization "Charity: Water."

Charity: Water's mission is to bring safe, clean drinking water to every person in the world.

To accomplish such a big task, it has to raise a lot of money.

Charity: Water uses computer science and social media to encourage individuals and organizations to give to its cause.

The organization actively shares its activities and accomplishments on the social media platform Twitter.

It even holds "twestivals" to promote donations.

One 2009 twestival raised $250,000 dollars.

Charity: Water's team of computer scientists developed interactive maps for the organization's website to share the progress the charity has made and to showcase the impact of donations.

They even make and share videos using the social media platform YouTube to thank those who have donated.

Thanks to you guys Adam Lambert was one of our biggest campaigners ever on Charity: Water, raised over $320,000 from 5,000 donations, and a whole bunch of you gave more than once, maybe two, three, four, or five times.

And we were just blown away by you guys, and we just wanted to say "thank you so much."

Hey Semainesh, this is Scott Harrison, I'm the founder of Charity: Water.

I just want to thank you and thank your whole family for this act of generosity, of compassion.

Nonprofits like Charity: Water combine social media and computer science in powerful, persuasive ways to achieve their goals.

Today, you received Scratch sign-in information.

With this information, you can access your projects and programs from any computer that has an internet connection.

Just go to scratch.mit.edu and sign in.

Your projects will be saved under the "my stuff" menu.

Computer scientists support and learn from each other.

Once this video finishes playing, post a shout-out to a fellow club member on the G+ board.

Grab the sticky note at your computer, or ask your Guru for one, and write some words of encouragement, like "Thanks for all the help today, Taylor" or "I really liked your project, KaMar!"

Next club, you'll program a profile page that stores a user's information using variables, much like the profile pages on popular social media websites.
Instructions
Write a G+ shout-out!
Sign in
to track your progress and earn badges
"charity: water" by charity: water (https://donate.charitywater.org/donate/newyear)
"Thank You, Semenesh" by charity: water turns five. (https://www.youtube.com/watch?v=vBrc4c_1jio) -- Licesned by Creative Commons Attribution 3.0 Unported (https://creativecommons.org/licenses/by/3.0/legalcode) -- Video trimmed to needed length
"Thank You, Glamberts!" by charity: water turns five. (https://www.youtube.com/watch?v=88efJ3bITZU) -- Licesned by Creative Commons Attribution 3.0 Unported (https://creativecommons.org/licenses/by/3.0/legalcode) -- Video scaled up, cropping edges | Video trimmed to needed length
"Обзор Колоды Карт CHARITY WATER. Где Купить игральные Карты? Playing Card Deck Review" by Rommel SK - Фокусы с Картами: Card Tricks by Sailor (https://www.youtube.com/watch?v=ZLPhTTSCHPo) -- Licesned by Creative Commons Attribution 3.0 Unported (https://creativecommons.org/licenses/by/3.0/legalcode) -- Video trimmed to needed length | Audio removed | Video scaled up, edges cropped
"Twestival Drill Day 4 - Well Complete from charity: water in Ethiopia" by charity: water (http://archive.charitywater.org/twestival/)
"Thanks, Cale Colts" by charity: water turns five. (https://www.youtube.com/watch?v=dQx16cPhTfo) -- Licesned by Creative Commons Attribution 3.0 Unported (https://creativecommons.org/licenses/by/3.0/legalcode) -- Video trimmed to needed length | Audio removed