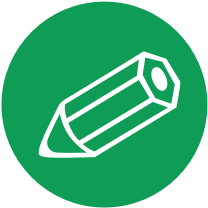 Transcript

Great job today creating a story with a special premise. Premise, the starting situation of the characters in a story, is a really important part of storytelling, and great storytellers grab the audience's attention with their exciting, intriguing, or unique premises.

Today you also used modules and learned about how you can fit different concepts and code blocks together to create something new and unique. Computer scientists build on top of code or machines that other people have made all the time. Storytellers do the same thing when they use plot devices like some of the ones you used today, just like computer scientists using code that has already been written. Conflicts in stories often mirror common real-life problems. Computer scientists solve real-life conflicts with the code they build. Take robots for example. Robots can be programmed to do almost anything that you, or any other computer scientist, can think of, and they often perform tasks better than a human can. They can be programmed to block shots from one of the best soccer players in the world.

To create bottled water so inexpensively that it can be given away for free.

It's a business model that pits this bunch of Gen-Yers against the big boys of beverages like Coca-Cola Amatil, which owns the Mt. Franklin and Pump brands.

It's definitely a roller coaster for the last year that we were pursuing this, but now we're starting to see the momentum building. It is like every single week is getting better and better.

Every bottle that rolls off the production line will be given away, bankrolled by the advertisers who buy space on the labels.

Being environmentally conscious Gen-Y upstarts, they've made their bottles from materials they say degrade 100 times faster than regular plastic.

As long as we have the consumers on our side, we'll always be appealing to advertisers.

We'll always find a way to get it out to consumers for free. So it's not going to be a question of who's going to let us, but rather who's going to stop us.

To quickly create components for cars.

Some robots have even been programmed to help children with autism learn to communicate.

These robots are used in classrooms, and allow children a safe and engaging way to practice communication. With computer science, humans have the ability to program computers and robots to solve a wide array of problems that could never be solved before. Next club, you will create a narrated story while learning about broadcasting. Go forth and tell your story!
Instructions
After watching this video, be sure to post a shout-out to a clubmate or Guru!
Sign in
to track your progress and earn badges
"Zeno - Robotic Friend" by Steve Jurvetson (https://www.flickr.com/photos/jurvetson/2218864889) -- Licensed by Creative Commons Attribution 2.0 Generic (https://creativecommons.org/licenses/by-sa/2.0/) -- Image not modified
"Lionel Messi vs Robot Goalkeeper. Who is better" by Sports Goal (https://www.youtube.com/watch?v=C2cNLs4v07U) -- Licensed using CC-BY 3.0 (http://creativecommons.org/licenses/by/3.0/) -- Video trimmed for needed length
"Fully Automatic Welding Tongue Change in the Car Body Construction" by SchunkHQ (https://www.youtube.com/watch?v=qrRdBSjbnDg) -- Licensed by Creative Commons Attributions-Share 3.0 Unported (https://creativecommons.org/licenses/by-sa/3.0/deed.en) -- Video trimmed to needed length
"Robotic Manufacturing - So Cheep You Can Give Your Products Away" by Robotic Automation P/L (https://www.youtube.com/watch?v=ZZuHpkgzD7g) -- Licensed by Creative Commons Attributions-Share 3.0 Unported (https://creativecommons.org/licenses/by-sa/3.0/deed.en) -- Video trimmed for needed length
"NAO Robot with Children - Meets and Interacts Autonomously" by Taylor Veltrop (https://www.youtube.com/watch?v=t8R--VkmSxA) -- Licensed by Creative Commons Attributions-Share 3.0 Unported (https://creativecommons.org/licenses/by-sa/3.0/deed.en) -- Video trimmed to needed length | Video scaled up, cropping edges | Audio removed
"Energy" by bensound.com (http://www.bensound.com/royalty-free-music/track/energy)