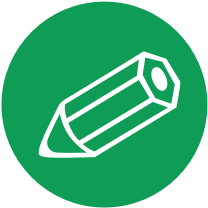 5. Wrap-up: Your Innovation Story
Transcript

The time has come for your CS First story to draw to a close.

But that doesn't mean it's the end of your journey with computer science.

As you leave the club.

you will take everything you learned with you.

You can also log in to Scratch from any computer with an internet connection to keep working on the projects you created in CS First, or start brand new ones.

Even better, you can log in to CS First with the same account and watch some videos for other clubs, build projects in games, music, art and more.

Scratch has a large community of other computer scientists and storytellers who are learning and creating just like you.

From the Scratch website, you can explore and comment on other people's creations and share your own.

Scratch and computer science can also be useful tools for class projects.

The next time you're asked to create a school project, consider using Scratch to create an interactive story and presentation or a game.

In high school, you may have the chance to take a computer science course.

The challenges you have persevered through and skills you've learned in this CS First club have prepared you for these courses.

As a veteran CS First club member, you can feel ready for whatever your next step in computer science may be.

Computer science is fun, but it's more fun with friends.

Look for opportunities to code with your friends, whether that's joining another club, taking a class together, or just using Scratch to create a class presentation.

Believe it or not, only 30 years ago, less than one person for every ten people owned a computer.

Today, computers are everywhere.

Nearly every school and workplace relies on computers to function.

In CS First, you took an important first step in learning computer science and the skills you learned in this club, no matter what your path in life, will be really important.

Reflect on all that you've accomplished in this club.

You did everything, from writing an interactive story to creating a moving setting.

Not only did you learn about storytelling, but also, you used real computer science to make your stories.

That's really amazing.

(upbeat music)

The CS First team would like to thank you and congratulate you on all that you have accomplished in this club.

As a computer scientist, you have the power to help create a better future for yourself and the people around you, all because you understand how to use technology.

Now, go for it and tell your story.
Instructions
Congratulations on finishing this CS First club! Remember to post a shout-out to a club mate or Guru!
Sign in
to track your progress and earn badges
"Rock Cycle Model" by jpswaynos (https://scratch.mit.edu/projects/888701/) -- Licensed under CC BY-SA 2.0 (https://creativecommons.org/licenses/by-sa/2.0/)
"Moody Hall Computer Lab" by Ben Schumin (https://commons.wikimedia.org/wiki/File:Moody_Hall_computer_lab.jpg) -- Licensed by Creative Commons Attribution-Share Alike 2.5 Generic (https://creativecommons.org/licenses/by-sa/2.5/deed.en) -- Image scaled up, cropping edges
"Apple 1 Computer" by Ed Uthman (https://commons.wikimedia.org/wiki/File:Apple_I_Computer.jpg) -- Licensed by Creative Commons Attribution-ShareAlike 2.0 Generic (https://creativecommons.org/licenses/by-sa/2.0/) -- Image scaled up, cropping edges
"Energy" by bensound.com (http://www.bensound.com/royalty-free-music/track/energy)
"HD Greenscreen Fireworks" by FreeFootageGuy (https://www.youtube.com/watch?v=6HAkAtviV2A) -- Licsensed by Creative Commons Attribution-Share Alike 3.0 Unported (https://creativecommons.org/licenses/by-sa/3.0/deed.en) -- Background in video has been keyed (removed) out
"Computer and Internet Use in the United States" by US Department of Commerce (http://www.census.gov/prod/2013pubs/p20-569.pdf) -- Doc cropped into an image just showing a chart